Thank you to our Iowa Hub, anchored by the Community Foundation of Greater Dubuque for your continued partnership and support in bringing teacher's voices and stories to the forefront of our communities. Special thanks to my Amy Mayer from RAPIL and Colleen Mulholland from the University of Northern Iowa for connecting us with Jamie.

Teachers are more than vehicles for curriculum. While teaching students the basic knowledge and skills required to live a fulfilling life is unquestionably part of the profession, educators also bring their own experiences to bear in their work. Jamie Fehring, a middle school science teacher from Bedford, Iowa, didn't begin her career as a teacher. Beginning with a career as a scientist, and more recently a mother, Jamie's lived experiences have defined her first three years in the classroom, creating a class environment which embodies, and encourages, inquiry and inclusivity.
From a young age, Jamie had an innate love for science and discovery:
"At this point in my life, I describe myself as a mom and as a teacher, but overall, my entire life, I describe myself as a scientist. I've always had a passion for our environment, for science, for space, just for all of it. Since fifth grade I was like, 'I'm going to do marine biology, I'm moving to Queensland, Australia, I'm working with the Australian box jellyfish.'"
Jamie pursued her passion for marine biology throughout college, and an esteemed award presented an opportunity to practice her profession much closer to home, only 20 minutes from where she grew up:
"I received a scholarship from the American Fisheries Society in 2004, and I was the only female in Iowa to ever receive it. I started working for the local fish hatcheries and that is where I met my spouse, and I was like, 'I don't really need to go to Australia, I could stay.'"

"I have never loved a job so much. [Teaching is] what I'm supposed to do. I am supposed to be an educator."
After her start as a fisheries biologist, Jamie worked in a genotyping lab for nine years where she extracted DNA from plants, studied their genetics, and was in charge of synthetic markers, or bringing in new traits. However, when she had children and her husband received an offer for his dream position, she left the lab for rural Corning, Iowa, and found a new direction:
"I stayed home for a year and a half and I was like, 'I love my children but I am not cut out to be a stay-home parent.' My neighbor - actually my boss now - was like, 'Hey, have you ever thought about substitute teaching?' I kind of always had thought about education so I'm like, 'Okay, yes, I will substitute teach.' In this area, there's not a lot of opportunities for positions like what I was doing unless you're willing to drive a very long distance. My kids were one and three and I'm like, 'I can't do that drive,' so I started substitute teaching."
On the first day of subbing, Jamie was moved by her interactions with one child in particular to pursue teaching as a career.

"There was a little boy in class who was on the [autism] spectrum, and I had a veteran teacher come to my classroom and she's just like, 'I cannot believe this is your first day teaching! We struggle to get him to lay down, we struggle to get him to do stuff, put his shoes on, how are you doing this?' My son is autistic, and for me that is my every single day, so to be there with that child, was fine, no big deal. You just have to approach them in a different way, you know. What strategies work for him might not work for him in an hour and it's probably not going to work for him tomorrow, but that's your job. I got home that day and I sat down with my husband and I was just like, 'I have never loved a job so much. That's what I'm supposed to do. I am supposed to be an educator.'"
Becoming a Teacher
Joining the education field as a second profession can be an arduous journey as it requires tremendous time and concentration of individuals already fully immersed in other responsibilities. Luckily for Jamie, many universities and colleges, such as the University of Iowa network, recognize the incredible value of trained professionals seeking education as a second career. These new teachers not only fill the growing national teacher shortage but also provide students with priceless knowledge and expertise about their subject field. As she set about to become a teacher, Jamie came across the Regents Alternative Pathways to Iowa Licensure program (RAPIL), which offers an expedited path through the preparation and licensing process:
"At that time I was a month out and I found a fast track program, the RAPIL program. I had like a month before the due date and I had to take the reading, writing, and math practice; get three letters of recommendation; and send my transcripts to apply. Then, you find out if you get an interview and go from there. So, I took the test, got all my stuff turned in, found out that I got in, and I felt like it was fate. I started substitute teaching in March, found out about the program in April, and applied to it in May. I feel like it was fate that I was meant to be on this journey, to become an educator, and it's been the best decision that I've ever made."

"If we could all just be decent and understand that there are so many invisible things that we don't know people are dealing with, the world would be a much better place. That's what I'm trying to help teach them."
After training through RAPIL, Jamie spent two years teaching in Corning, Iowa before making the jump to the Bedford Community School District, another rural placement:
"Here in Bedford there's 1300 or 1400 people and the only stoplight is right outside the school and only works, you know, during the morning when kids are crossing. The building that I work in is Kindergarten through 12th grade. Being that it is a small school, I am the only science teacher in the middle school, so I like that I have variety in that sixth grade is earth and space science, seventh grade is life science, and eighth grade is physical science."
Working at such a small school is a unique, even invaluable, experience. Jamie reflects on how her "kids come up to sit in my classroom in the morning, they go to school, they come up after school, and my students know them…Everybody supports each other and that's what is really important to me: that I have that support and then my children have that support."
Advocating for Inclusivity
Building and sustaining that network of mutual support was central to what inspired Jamie to become a teacher. Now part of the profession, she's continuing forward on that commitment.
Over the course of her first year at Bedford, Jamie has worked intently with her students to teach them how to cultivate good relationships with each other. "It's given them a sense of care and respect to others in their class," Jamie says, "If we could all just be decent and understand that there are so many invisible things that we don't know people are dealing with, the world would be a much better place. That's what I'm trying to help teach them. Yes, I hope in ten years you remember photosynthesis, but I hope in ten years that you remember Mrs. Fehring taught you respect and gratitude and patience and just how to be a good person."
Whether it's by talking about her son, modeling how the students should treat each other in conversation, or working with students at a time when they begin to formulate their own unique identities, Jamie strives to create inclusivity in her classroom:
"I've had students come to me and say, 'We didn't know teachers could dress like you.' I take that as a huge compliment because I can look any way and I'm still going to be able to tell you the ins and outs of mitosis and deliver it in a respectful way. It doesn't matter what color of eyeshadow is on my eyes or how many tattoos I have, it's how you present yourself. I take a lot of pride in that…I want my students to know that no matter who they are or what they think, this is a safe place for them. I will always love them and respect them and listen to them and be their advocate."

"Yes, I hope in ten years you remember photosynthesis, but I hope in ten years that you remember Mrs. Fehring taught you respect and gratitude and patience and just how to be a good person"
Inspiring Student Inquiry
Along with her personal commitment to standing up for others, Jamie's experience as a scientist has deeply informed the style of teaching she brings to the classroom:
"I love to have debates because that's how problems are solved, and that's how we get to know each other for truly who we are. But if you want to debate something, you should probably understand the point you're trying to argue against and you should respect it. You should respect why both sides think differently. What I'm trying to teach them is that you don't have to think like everybody else, but be intelligent about it and understand that people do think differently. That's why we are where we are, because people thought differently; that's why I can be a woman that teaches science, because someone thought differently and was passionate about it."
More than debates on scientific theories, Jamie encourages her students to look at what's happening at the ground level to understand the larger picture, saying that she's "very big on teaching and applying it to things that are happening now."
She enables students to look past their initial assumptions and encourages them to continue seeking understanding of and solutions to the things they see locally, nationally, and globally. Jamie stresses that she tries her best at "empowering my students to lead as well. I find that it's very easy for us to conform and to just go with whatever other people are thinking, but I want them to lead and be involved in discussions." She continues:
"They've gotten excited now that they're taking learning in the direction that they wanted to go. They're taking ownership of it and it's allowed me to step back a little bit and see where they take it. Sometimes we go off on tangents, because that's life, but I work with them to bring it back around and relate it to our lesson and it's great. I love them taking the ownership and they're getting the reward for doing work."

"I feel like it was fate that I was meant to be on this journey, to become an educator, and it's been the best decision that I've ever made"
Lessons from Her Journey into Education
Looking back on her early years as a teacher, and the crucial influence of her personal and professional experiences in the classroom, Jamie shares this bit of advice for other soon-to-be colleagues entering the field:
"You aren't just an educator; you're not going to come in here and say I really love science so I'm going to teach you all about it. You also become a mom, a nurse, a therapist, a sister, a brother. You become everything and that can weigh a lot on you…Sometimes I have to make it a point that when I leave here it is done, and other times I wonder if I was cut out to do this. But when I think about my student who told me I'm the reason that they are here today, I realize I have to be there tomorrow for them, and I have to be there to carry it with them. That's why I'm here, this is what I meant to do."
Teachers come in all forms, and from any number of backgrounds. Regardless of their life path, their dedication to their students and changing lives shines through in their work, as it does for Jamie Fehring. The choice to pursue a new career in education gave Jamie an energy to advocate for students of all stripes and to provide a space for them to explore the world and themselves–just as she had done on her way to becoming a rural teacher:
"It's okay to change your mind. You might find something that you're passionate about. I knew I was going to Australia, and here I am now sitting in Bedford, Iowa where it's cold and there are no jellyfish, but I'm as happy as can be!"
We are grateful to Jamie for sharing her journey into education with us as well as her experiences cultivating inquiry and inclusivity in the classroom. If you would like to share 30 minutes of your time for an interview, please reach out to us at info@ruralschoolscollaborative.org. The I Am A Rural Teacher campaign is a collaborative effort with the National Rural Education Association and made possible through a grant from the Bill & Melinda Gates Foundation.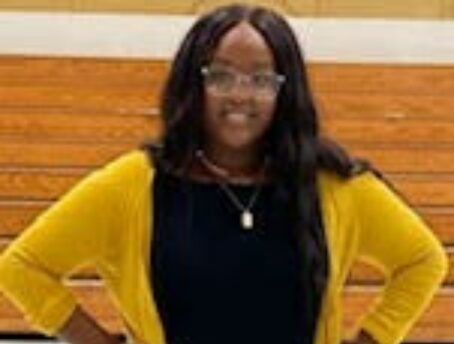 September 18, 2023
Inspiring teacher resilience through mentorship.
September 12, 2023
August 23, 2023
Overcoming adversity through the power of education